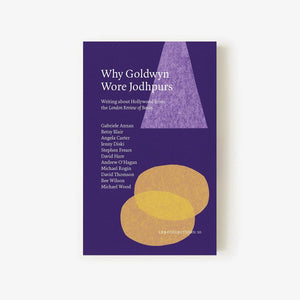 Writing about Hollywood from the London Review of Books
Writing about Hollywood is often the preserve of doomed romantics, because it has, for more than a hundred years, been the place where true romance goes to die, or to be monetised, which is much the same thing. Realists in Hollywood are like the two thieves at the Crucifixion: a nice warm-up for the conscience, but not the actual Messiah. What people want is fabulousness. It can come dangling various causes like amazing earrings, but what the audience loves is a superhuman figment. The very good actors in Hollywood don't have basic selves, in the normal sense: they have public relations, and they have a conception of otherness that neutralises their truth while exploiting it. As you'll discover in this collection, Hollywood is a state of mind, and it follows like global warming from the habits and conditions of the planet. Difference is: you can love it. Some of these writers do, some definitely don't, but none of them have any intention of ignoring it.
Featuring: Gabriele Annan, Betsy Blair, Angela Carter, Jenny Diski, Stephen Frears, David Hare, Andrew O'Hagan, Michael Rogin, David Thomson, Bee Wilson and Michael Wood.